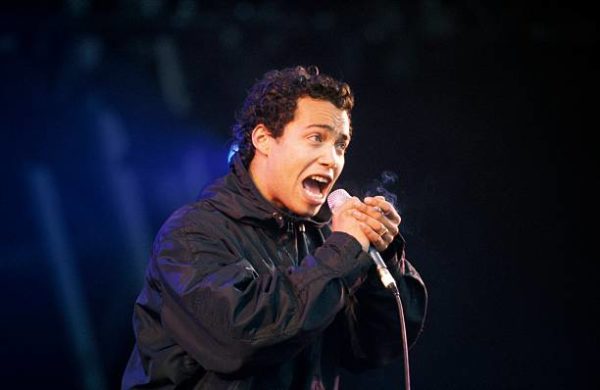 Finley Quaye
« You, alone ? » is what I heard in one of John Lee Hooker's songs.
Maybe in that song where John Lee Hooker says « Oh, come back, baby, please don't go one more time… ».
I surely wish he would come back.
He did not seemed to be impressed when he came a few years after Portishead, Massive Attack, Tricky (supposed to be his nephew but I never knew if they are really relatives) and Björk in the end of the nineties.
That is probably why he escaped memories. Finley Quaye.
Because Portishead, Massive Attack, Tricky, Björk and others by then were the musical ships which had already taken us to the 21 first century which had to be our next target.
For sure, this is not the only reason why Finley Quaye, today, does not appear in many play lists and I know it but I can barely face it.
Because it's too hard.
Music is about memory. Our intimate memory. It's like skin. But some skin we blend with what our lives are made of when when we listen to it. Every time I read the comments below some videos I watch on Youtube you will find someone writing « It reminds me of this, it reminds me of that ». It happened that night while catching Tricky's Christiansands on video and on stage. While watching some videos of Finley Quaye.
That's right.
Since we were born and even before, we listen to various amounts of music. Music, for us, in rich and « peaceful » countries, can also be like abundant water. It is so easy to get some that many times we do not really care about what's going on. Apart for what we already like and are focused on, the « rest » is just here and we do not have to particularly pay attention until many years later, suddenly, we remember the rest we had left.
And we say :
It was really the good times. I was doing this. Everything was easy then and all smiles were open.
Of course, this feeling is deceiving in some way. But Music does not interfer with our sense of happiness. It stimulates us. It rarely bury us even if we are listening to some depressive music. By saying this I think of all the fans in the world who are so fond – almost to the grave- of artists like Leonard Cohen and Nick Cave.
I have tried to get involved with their music but all I can hear until now is a grave coming next to me. We cannot dance while hearing Leonard Cohen or Nick Cave. But we can probably pray for our souls while hearing their songs and I do not want to pray for my soul while listening to some music because I must probably have sinned some day.
I want to live even if what I am going through is painful. Even if I feel responsible for that.
We cannot plan to dance if we want it while listening to Miles Davis's albums too but I don't mind. Perhaps because Miles did not sing and it was for the best. The voice can be everything.
But Finley Quaye was someone else.
Finley Quaye's Music was utter stimulation. It was not a burial.
Most Reggae artists can be divided in three or four sections.
Those who made History :
Burning Spear, Bob Marley, Albert Griffith and the Gladiators, Lee Scratch Perry, Steel Pulse, Aswad, U-Roy, Black Uhuru, LKJ, and many many more.
Those who respectfully follow the greatest and do nothing really new almost like musicians and singers playing in a zoo or for tourists.
Those who play dancehall.
Those who get Dub.
Finley Quaye Managed to do something else without denying the best the eldest had done before. His « obedience » to some standards of the Rastafarism even sounded odd when he spoke in a jamaican way . What had this young man ( he was about 25 then when he became famous ) to do with Rastafarism by the end of the 1990's in a world dealing with the dope of internet, cellular phones and a movie like Matrix by the then brothers Wachowski ? Despite the irresistible clocks of Rap Music.
I ignored- or I easily forgot- at that time that Finley Quaye had spent most of his life in Scotland, a country I was very pleased with in the beginning of the 1990's. But in my opinion it does not explain the sort of blast Finley Quaye remains in my mind when I listen to his music today almost 25 years later.
Reggae, Electro ( some say Trip Hop), Jazz, Soul. And what a voice ! In his voice, I find a crooner, a charmer and a…muezzin.
You want to listen to a musician and singer who does not pretend when he is in Music ? Finley Quaye is one of these artists you can rely on. Dig his albums Maverick A Strike and Vanguard.
I confess ( this is my Leonard Cohen and Nick Cave part) I p(r)ay little attention at what Finley Quaye says in his songs whose texts I guess can somewhat be heard like the result of a mix of esoteric, crazy stuff and automatic writing.
But, musically….
Speaking of Finley Quaye, some People often recall the titles Even after all or Sun is Shining. It is only recently I have heard that Rita Marley gave Finley Quaye the permission to « replay » that song of Bob Marley whereas she had always refused any permission of that kind for years.
I am OK with Sun is shining and I like the symbol of Finley Quaye playing it after Bob Marley. And like many others I really enjoy Even after all so delicate and yet so warm and strong like blood taking care of Life in our veins as if it will never stops. And that song never stops when you love it.
But what about Falling ? How can people forget about that song ? Again, Finley Quaye does not force you. He simply has all the keys (notes) to open your mind in 3 minutes and 19 seconds against 3 minutes and 56 seconds for Even after all.
There are others songs of Finley Quaye in Maverick A Strike ( 1997) and Vanguard (2001) that are worth listening : Ultra Stimulation, It's great when we are together, When I burn off the distance, Feeling Blue and others….
But I want to deal with another song of Finley Quaye that is not very famous :
White Paper.
Probably that song is not a masterpiece for its lyrics. But hear the Music ! At first, this song has some sort of psychedelic atmosphere and seems only to be fun. Nothing special. Then the break occurs at 2'43. What a break. Only great musicians can do that. Finley Quaye did not need to sing to hide himself. His music can speak for itself.
I saw him once at a concert, when he came to France, in Paris in the nineties at Le Zenith, I think, or at L'Elysée Montmartre ?
He seemed to be bored when he sung his most known songs. Perhaps because he had to and was fed up with this permanent do it again during his tour.
After a while, about an hour, (after his contract was honoured ?) we had a different Finley Quaye in front of us. Playing good music and definitely enjoying it.
That night, he was dressed with military clothes. I forgot when Finley decided to throw his vest at the crowd as a gift. But the circles made by his arm were too strong and too fast. The vest got so high it reached one of the spotlights. It never went down. Like Finley Quaye's music.
When we listen to his Music now, we find pleasure and some regrets about our Youth. Finley Quaye found addiction to bad experiences and drugs.
Nostalgia, too, and its unsung dreams can be an addiction. From the start, Finley Quaye's Music was safe due to its riddles of Nostalgia. But I wouldn't notice. Because I was then getting old and I was not ready yet to admit for I was still hooked on my Youth.
Our Youth can vanish before we see it. Let's enjoy it. Perhaps Finley Quaye 's Music is also a lot about that warning. I hope Finley Quaye – and his female and male twins- will recover enough from this to be at his best again.
Franck Unimon, the 2 of october, 2023. Today is my birthday and when I woke up this morning I had not scheduled to write my very first article in English for my blog balistiqueduquotidien.com. It came in English and I have tried my best. I hope this article will be enough enjoyable for a reading despite my english mistakes. See you !